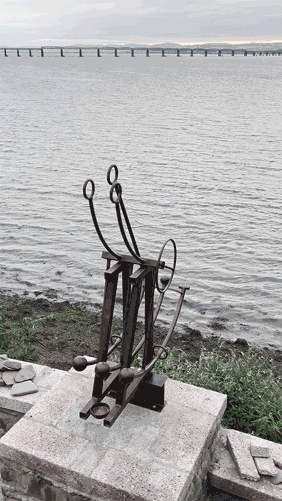 Rocker on Tay
2023
​
Sculpture for private client.
A beautiful site perched on the Tay's edge opposite Dundee. The sculpture acts in two parts as a weighted pendulum, activated with a push, and just catching motion in the breeze.
The form is talking to the landscape section - a light, poised, soft upper just dancing visibly from the house rests on a boxier more utilitarian lower - off-balanced and bolted to the rock face.



The panorama captures 20hours of daylight at solstice; you can see the 1882 iron and steel Tay Bridge to the west, the Dundee Law to the north of the city, and the de-commissioning towers of the Port of Dundee to the East. There's also the prominent little rocky blip that is Kengo Kuma's V&A Dundee visible at the city waterfront.
A fantastic landscape to work with and a testament to the work of the home owners Richard and Lesley in occupying this steep patch of river front.

It is made of 19mm & 25.4mm Ø mild steel tube, 30mm sqs box and various solid and hollow spheres and rings. Finished with a rust coat and oiled.
​
​
JackHardyWorks-RockeronTay-4
JackHardyWorks-RockeronTay-5
JackHardyWorks-RockeronTay-6
JackHardyWorks-RockeronTay-4